Forum Song Contest #94
Host
Rovaniemi, Finland
Date
December 2016
Entries
30
Winner
Spain
Debuting countries
None
Returning countries
Japan
Withdrawing countries
Armenia

FSC
< FSC #93         FSC #95 >
For the first time ever, FSC comes to Finland for this Christmas-themed 94th edition, following the first victory of Finland in FSC, with Restless Heart by Niila. Our host city is Rovaniemi.
We see a decline to only 30 participants, due to the withdrawals of Armenia, Brazil, France, Israel and Slovenia.
Meanwhile, Japan is the only returning country.
With all participating juries having voted, Spain turns out to be victorious, while the United Kingdom takes 2nd place and Croatia 3rd, for the second time in a row.
The Host City
Edit
The Host city for this FSC 94-edition is Rovaniemi , the capital of Finnish Lapland the northernmost region of Suomi Finland . It's the commercial centre of the whole region situated about 10 kilometres (6 miles) south of the Arctic Circle , and it is famous for its Santa Claus Village, an amusement park , that is believed to be the home of Santa Claus.
Rovaniemi is first mentioned by name in official documents in 1453, existing effectively as a set of small villages, whose inhabitants earned their living mainly in agriculture & animal husbandry, with fishing and hunting as the most important offshoots. The exploitation of Lapland's natural resources (mining) in the 1800s and later boosted Rovaniemi's growth.
Today since Rovaniemi represent the capital of the Province of Lapland many government institutions have their offices there. About 10,000 of the inhabitants, are students . Rovaniemi is home to the University of Lapland, & the Rovaniemi University of Applied Sciences which comprises institutes of info and technology, business, health, social care and more.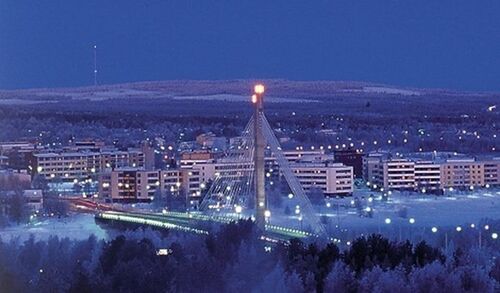 The Venue
Edit
The host venue for FSC 94 December 2016 is the Santa Claus Village, or as it is called in Finland Joulupukin Pajakylä.  The village also has several facilities not always  open to the public , including several chambers, for special circumstances . One of these has been made available for us this evening an intimate hall but with true atmosphere &  northern / Arctic style . It will make for a special, exclusive, venue for this evening's, very exciting event in this special and almost magical place in the far north of Suomi Finland.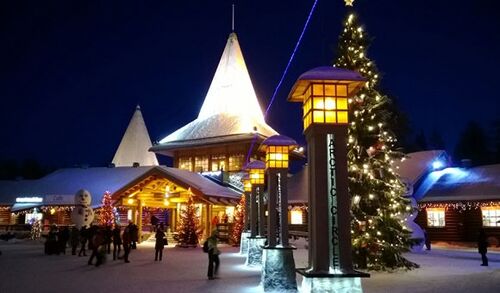 The Host
Edit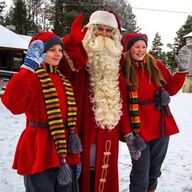 Our prestigious host is Santa Claus himself (Joulupukki)!
Much or little is known about him, depending on who you ask . An aura of mystery surrounds him also in the beautiful winter magic landscape of Finnish Lapland & Rovaniemi.  He is , as we all know, a busy man with a tight schedule now in the month of December,  so we are very pleased & honoured , that he could take time off , to host this FSC-event today . He'll be assisted, in the Green Room, by two young youths, also pictured below.
The Show
Edit
| Nr. | Jury | Artist | Song | Rank | Points |
| --- | --- | --- | --- | --- | --- |
| 01. | Norway | Sirenia | Goddess of the Sea | 11. | 68 |
| 02. | Sweden | Cherrie feat. Lind Pira | Inget kommer mellan oss | 26. | 25 |
| 03. | Germany | Ramin Djawadi | The Winds of Winter | 16. | 55 |
| 04. | Indonesia | Banda Neira | Yang Patah Tumbuh, Yang Hilang Berganti | 27. | 22 |
| 05. | South Africa | Elvis se Seun | Ek mis jou | 18. | 53 |
| 06. | Australia | Guy Sebastian | Set in Stone | 05. | 91 |
| 07. | Morocco | Khaoula | L'Weekend | 24. | 29 |
| 08. | Netherlands | Martin Garrix & Bebe Rexha | In the Name of Love | 04. | 97 |
| 09. | Turkey | Ece Seçkin | Adeyyo | 09. | 68 |
| 10. | Mexico | Diego Boneta | Ur Love | 19. | 45 |
| 11. | Ukraine | Omnia feat. Christian Burns | All I See is You | 15. | 56 |
| 12. | Japan | RADWIMPS | Zen Zen Zense | 23. | 36 |
| 13. | Philippines | Sarah Geronimo feat. Hale | The Great Unknown | 17. | 55 |
| 14. | United Kingdom | Coldplay | Hymn for the Weekend | 02. | 110 |
| 15. | Spain | Pablo López | Hijos del Verbo Amar | 01. | 132 |
| 16. | Finland | Vesala | Älä droppaa mun tunnelmaa | 06. | 89 |
| 17. | Taiwan | Eli Hsieh | Losing my Ground | 22. | 39 |
| 18. | Russia | Elena Temnikova | The Movement | 30. | 11 |
| 19. | Croatia | Pavel | Ljubav | 03. | 103 |
| 20. | Italy | Ermal Meta | Gravita con me | 10. | 68 |
| 21. | Malaysia | Sakura Band | Polaroid | 12. | 65 |
| 22. | Ireland | Funeral Suits | The Way Back | 25. | 26 |
| 23. | Romania | Guess Who feat. Tudor Chirila | Prea Curand | 28. | 20 |
| 24. | Serbia | Milica Todorovic | Cure Privode | 13. | 65 |
| 25. | Estonia | Tommy Cash | Winaloto | 29. | 16 |
| 26. | Bulgaria | Emanuela | Kato Teb | 14. | 58 |
| 27. | Hungary | New Level Empire feat. DENIZ | Valahol | 20. | 42 |
| 28. | Latvia | Elizabete Balcus | Behind the Castle | 08. | 70 |
| 29. | Denmark | Laila av Reyni | Kongur | 07. | 85 |
| 30. | Poland | Daria Zawialow | Malinowy Chrusniak | 21. | 41 |
The Results
Edit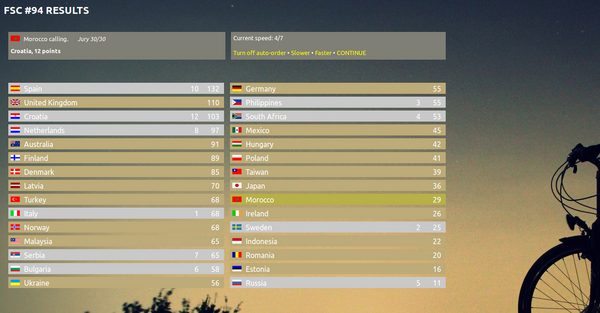 The Winner
Edit
Pablo López - Hijos del Verbo Amar: