February 2016 saw the
84th
edition of
Forum Song Contest
(FSC). It was held in Tartu, Estonia - thanks to Grete Paia, who earned the victory in the
preceding edition
.
29 juries joined FSC 84, two less than in January: After failing to vote, Belgium and Slovenia did not take part. Also Morocco wasn't able to participate as part of a sanction against this country. It had to vote nevertheless and returned in the following month. However, after an one-month break, Austria returned to the competition.
After a close voting, Norway and its entry "Play My Drum" by Sandra Lyng emerged as the winner, four points ahead of Finland. Russia completed the top three. On the other hand, Indonesia earned the fewest points - not coming last in the overall ranking only because of two non-voting countries, namely Brazil and Greece.
The Host City
Edit
Tartu is the second largest city of Estonia, following Estonia's political and financial capital Tallinn.
Tartu is often considered the intellectual centre of the country, especially since it is home to the nation's oldest and most renowned university, the University of Tartu. The city also houses the Supreme Court of Estonia, the Ministry of Education and Research and Estonian National Museum. It is the birthplace of Estonian Song Festivals.
Situated 186 kilometres southeast of Tallinn and 245 kilometres northeast of Riga, Tartu lies on the Emajõgi ("Mother river"), which connects the two largest lakes of Estonia. The city is served by Tartu Airport.
The Venue
Edit
The Tartu Festival Arena is a concert venue for up to 15,000 people. It was opened with the 125th Song Festival in 1994. Every year 20 big concerts take place here, for example Depeche Mode, Manhattan Transfer and José Carreras have performed here.
The construction of the stage is unique, in that the arch above it acts as an acoustic screen, directing the sound towards the amphitheatre.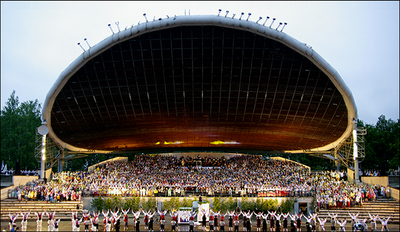 The Hosts
Edit
Teele Viira is an Estonian singer and presenter. She was a finalist in the fourth season of Eesti otsib superstaari.
Ott Lepland (born 17 May 1987) is an Estonian singer, best known as the winner of the third season of Eesti otsib superstaari. Lepland represented Estonia in the Eurovision Song Contest 2012 in Baku, Azerbaijan with the song "Kuula" placing 6th in the final.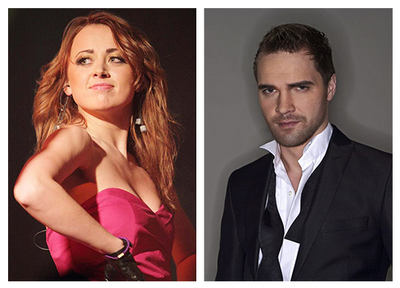 | Nr. | Jury | Artist | Entry | Rank | Points |
| --- | --- | --- | --- | --- | --- |
| 01 | Greece | Despina Vandi | To Maxilari | 28. | 65* |
| 02 | Austria | Farewell Dear Ghost | We Were Wild Once | 11. | 66 |
| 03 | Philippines | Up Dharma Down | All the Good Things | 24. | 28 |
| 04 | Taiwan | Weibird Wei | Girl | 19. | 46 |
| 05 | Estonia | Mauno Meesit | Varjudemaa | 26. | 24 |
| 06 | Sweden | Duvchi & Loreen | Fire Blue | 21. | 37 |
| 07 | Ukraine | Jamala | Shlyakh Dodomu | 7. | 72 |
| 08 | Germany | Silbermond | Leichtes Gepäck | 16. | 52 |
| 09 | Russia | Leningrad | Eksponat | 3. | 81 |
| 10 | Brazil | Anitta | Bang | 29. | 46* |
| 11 | Japan | Kenta Kiritani | Umi No Koe | 14. | 57 |
| 12 | South Africa | Francois van Coke & Karen Zoid | Toe vind ek jou | 6. | 73 |
| 13 | United Kingdom | Zayn | Pillowtalk | 10. | 67 |
| 14 | Netherlands | Ralf Mackenbach & Rachel Traets | Replay | 22. | 32 |
| 15 | France | Fréro Delavega | Le Chant des Sirènes 2 | 12. | 61 |
| 16 | Australia | Anja Nissen | Triumph | 8. | 71 |
| 17 | Norway | Sandra Lyng | Play My Drum | 1. | 101 |
| 18 | Malaysia | Amira Othman | Hati-Hati | 17. | 50 |
| 19 | Turkey | Demet Alkalin | Calkala | 4. | 77 |
| 20 | Indonesia | Parahyena & Dimas Wijaksana | Ayakan | 27. | 19 |
| 21 | Romania | Alina Eremia | A Fost o Nebunie | 5. | 76 |
| 22 | Finland | Softengine | All About You & I | 2. | 97 |
| 23 | Mexico | CD9 | I Feel Alive | 13. | 59 |
| 24 | Poland | Kasia Cerekwicka | Szczescie | 23. | 32 |
| 25 | Serbia | Milica Pavlovic | La Fiesta | 9. | 70 |
| 26 | Bulgaria | Ivan Radulovski | Dvoina doza | 25. | 27 |
| 27 | United States | Hailee Steinfeld | Love Myself | 15. | 52 |
| 28 | Czech Republic | Ben Cristovao | Tabu | 20. | 41 |
| 29 | Croatia | Učiteljice | Dunav | 18. | 46 |
The Results
Edit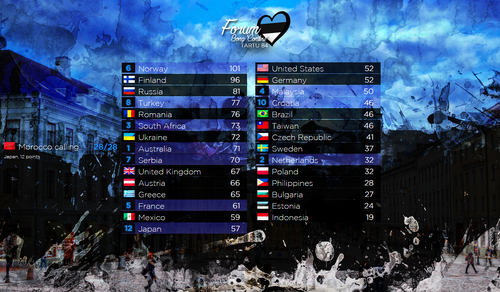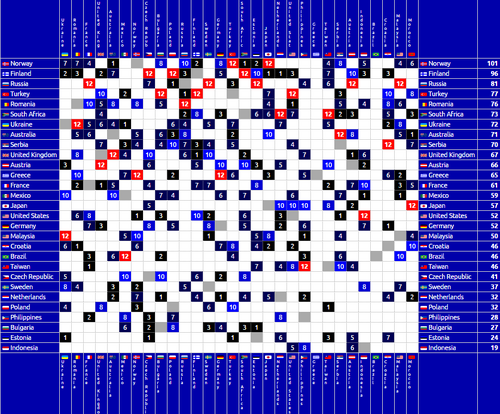 12 Points
Edit
Receiver
Times
Awarded by
Russia
5
Austria, Estonia, France, Malaysia, Sweden
Finland
3
Czech Republic, Poland, South Africa
Turkey
Bulgaria, Finland, United States
Greece
2
Germany, Norway
Norway
Japan, Turkey
South Africa
Netherlands, Taiwan
Australia
1
Serbia
Austria
United Kingdom
Brazil
Mexico
Japan
Morocco
Malaysia
Ukraine
Romania
Russia
Serbia
Croatia
Taiwan
Philippines
Ukraine
Romania
United Kingdom
Australia
United States
Indonesia
The Winner
Edit
Sandra Lyng - Play my drum: