January 2016 sees the 83rd edition of Forum Song Contest (FSC), held in the city of Utrecht in the Netherlands - thanks to Causes and their song "To the River" who won the preceding edition.
31 countries participated in this edition, the same number as in December 2015. Actually all the juries who joined FSC 82 were also present in January 2016.
Estonia won FSC 83 - exactly 20 editions after their last victory in FSC 63. Just like then the artist of the winning entry was Grete Paia, whose song "Püüame droone" won with a margin of 24 points. Grete Paia thus became the fourth artist to win FSC twice, after Tom Dice, Within Temptation and Ella Henderson. Russia earned the silver medal while Sweden placed third. On the other side of the table the Philippines again only escaped the last place "thanks" to two non-voters: Belgium and Slovenia (that were subsequently moved down the scoreboard).
The Host City
Edit
Utrecht is the capital and most populous city in the Dutch province of Utrecht. It is located in the eastern corner of the Randstad conurbation and is the fourth largest city in the Netherlands with a population of 330,772 in 2014.
Utrecht's ancient city centre features many buildings and structures several dating as far back as the High Middle Ages. It has been the religious centre of the Netherlands since the 8th century. It lost the status of prince-bishopric but remains the main religious center in the country. Utrecht was the most important city in the Netherlands until the Dutch Golden Age, when it was succeeded by Amsterdam as the country's cultural centre and most populous city.
Utrecht is host to Utrecht University, the largest university in the Netherlands, as well as several other institutes for higher education. Due to its central position within the country, it is an important transport hub for both rail and road transport. It has the second highest number of cultural events in the Netherlands, after Amsterdam. In 2012,The Lonely Planet included Utrecht in the top 10 of the world's unsung places.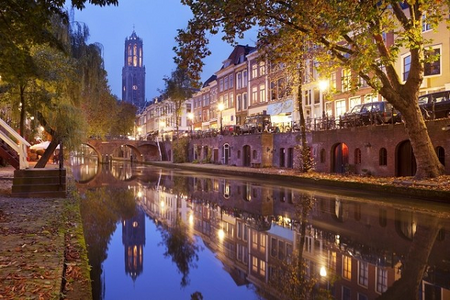 The Venue
Edit
TivoliVredenburg, is a music venue with five concert halls and a total capacity of 7,900 people. It was officially opened in July 2014 (the first concerts took place in April 2014). TivoliVredenburg was built on the location of the demolished Muziekcentrum Vredenburg. The main hall of the old building has been integrated into the new building.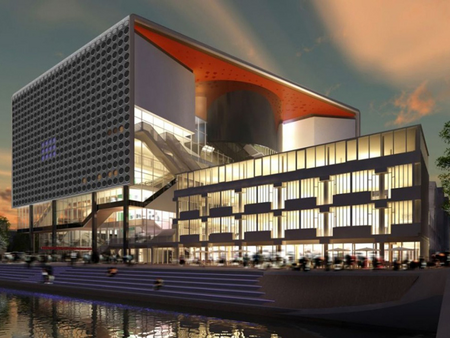 The Hosts
Edit
Our hosts today are Michiel Huisman and Carice Van Houten, Dutch actors, known from TV Series Game Of Thrones.
The Show
Edit
| Draw | Jury | Artist | Entry | Rank | Points |
| --- | --- | --- | --- | --- | --- |
| 01 | Portugal | Leonor Andrade | Já conheci | 17. | 54 |
| 02 | Taiwan | Tanya Chua | Best Way to Die | 20. | 49 |
| 03 | Mexico | Anahí | Boom Cha (feat. Zuzuka Poderosa) | 16. | 56 |
| 04 | France | Woodkid | Volcano | 11. | 63 |
| 05 | Slovenia | Kim Begovič | No One Has to Know | 31. | 31* |
| 06 | Morocco | Amine | Señorita | 9. | 66 |
| 07 | Estonia | Grete Paia | Püüame droone | 1. | 121 |
| 08 | Indonesia | Adhe Arrio | So Sweet, So Cold (feat. Neonomora) | 13. | 59 |
| 09 | Netherlands | Leonie Meijer | Naked | 5. | 80 |
| 10 | Belgium | Balthazar | Nightclub | 30. | 51* |
| 11 | Germany | Wincent Weiss | Regenbogen | 10. | 65 |
| 12 | Sweden | Darin | Lagom | 3. | 88 |
| 13 | Poland | Natalia Nykiel vs. Auer | Ground Level | 24. | 35 |
| 14 | Czech Republic | No Distance Paradise | Ghost | 4. | 82 |
| 15 | South Africa | Die Heuwels Fantasties | Doen Net Wat Ons (feat. Riana Nel) | 7. | 77 |
| 16 | Bulgaria | Dia | Egeya | 21. | 47 |
| 17 | Turkey | Asli Demirer | Saat 12 | 27. | 19 |
| 17 | Australia | Meg Mac | Never Be | 8. | 68 |
| 18 | United States | J. Young & P. Ryan | We Won't | 19. | 51 |
| 19 | Romania | Ramona Nerra | My Heart Is Still Winning | 23. | 41 |
| 20 | Norway | Ingebjørg Bratland | Eim av Parfyme | 14. | 58 |
| 21 | Greece | Eleftheria Arvatinaki | Mi Me Fonaxis | 28. | 19 |
| 22 | Philippines | N. Lustre & K. Cipriano | Sa Ibang Mundo | 29. | 15 |
| 23 | Ukraine | Lama | My Mylyy (feat. Tonya Matvienko) | 15. | 58 |
| 24 | Japan | Hamada Bamyu Bamyu | Nandeyanen Nen | 25. | 34 |
| 25 | Croatia | Maja Šuput | Lopove (feat. Dragi) | 6. | 79 |
| 26 | Finland | Anna Puu | Ota Minut Tällaisena Kuin Oon | 12. | 60 |
| 27 | Malaysia | Amelina | Cinta Harus Seksi | 26. | 22 |
| 28 | Russia | Aleks Malinovskiy | Ne Plach' So Mnoy Nebo | 2. | 97 |
| 29 | Serbia | Nataša Bekvalac | Pseto | 22. | 42 |
| 30 | United Kingdom | Frances | Glow | 18. | 53 |
The Results
Edit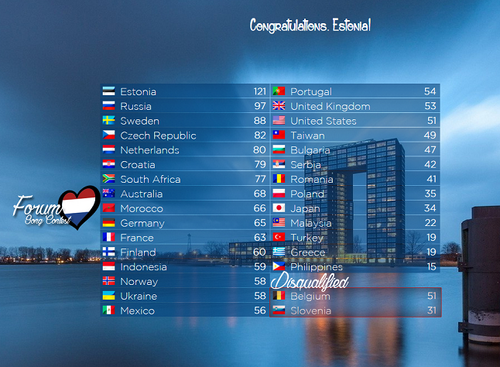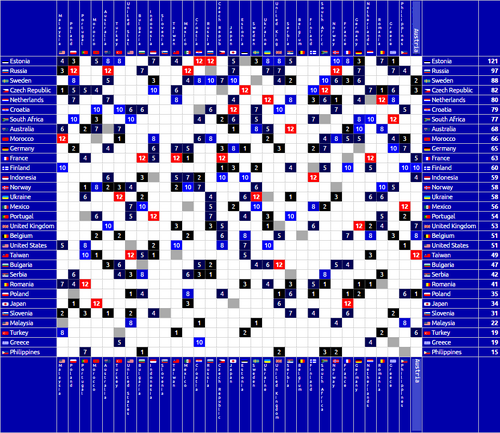 The Winner
Edit
Grete Paia - Püüame Droone: