The Host City
Edit
Bratislava is the capital of Slovakia, and with a population of about 450,000, the country's largest city.  The greater metropolitan area is home to more than 650,000 people. Bratislava is in southwestern Slovakia, occupying both banks of the River Danube and the left bank of the River Morava. Bordering Austria and Hungary, it is the only national capital that borders two sovereign states.
Bratislava is the political, cultural and economic centre of Slovakia. It is the seat of the Slovak president, the parliament and the Slovak Executive. It is home to several universities, museums, theatres, galleries and other important cultural and educational institutions. Many of Slovakia's large businesses and financial institutions also have headquarters there.
The city is surrounded by vineyards and the Little Carpathian mountains, crisscrossed with forested hiking and cycling trails. The pedestrian-only, 18th-century old town is known for its lively bars and cafes. Perched atop a hill, the reconstructed Bratislava Castle overlooks old town and the Danube.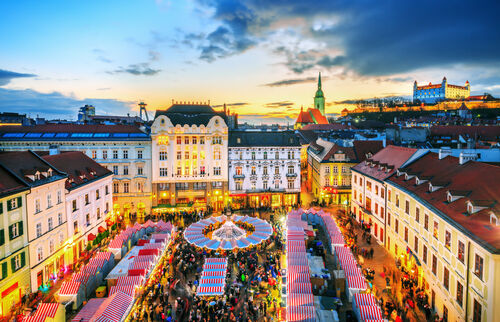 The Venue
Edit
Slovak National Theatre
Located by the Hviezdoslav Square, the Neo-Renaissance building was built in 1885–1886 during the time of Austria-Hungary, based on a design by the Viennesearchitects Fellner & Helmer, who designed theater buildings in 10 European countries. It was opened as the City Theater on September 22, 1886 with the opera Bánk bán of Ferenc Erkel, which is one of the most important Hungarian opera.
The Hosts
Edit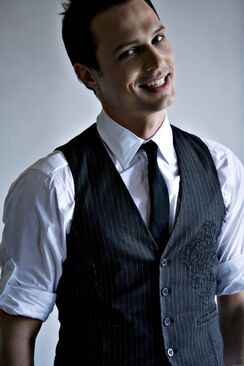 Martin 'Pyco' Rausch was born on October 9, 1977 in Bratislava, Czechoslovakia. He is an actor, known for Slovensko hladá SuperStar (2004), Cesko Slovensko má talent (2010) and Eurosong (2009).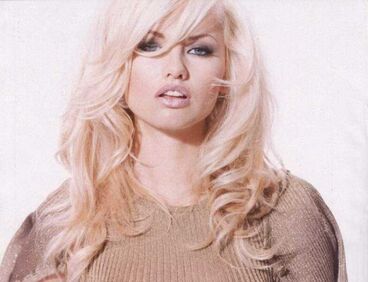 Adriana Sklenaříková (born 17 September 1971) is a Slovak fashion model and actress. She is a former Guinness record holder for the longest legs among female models (at almost 1.24 m). She was born in Brezno, a town in central Slovakia.
While studying medicine in Prague, she entered and won a modelling contest. In 1998, she was hired as one of the models for the Wonderbra campaign. In the United States, she modeled for Victoria's Secret. In 2005 she featured in the Channel 5 TV documentary Bra Wars: Boom or Bust. In 2008 she participated in Rendez-vous en terre inconnue on France 2. In 2011 she was a contestant in the first season of the French Dancing with the Stars.
Recap:
| Draw | FSC jury | Performer | Song | Place | Points |
| --- | --- | --- | --- | --- | --- |
| 01 | Ukraine | Black Light Coma | Colors | 9 | 94 |
| 02 | Slovenia | Anja Baš | Smisel | 27 | 25 |
| 03 | Canada | Hey Ocean! | Islands | 2 | 145 |
| 04 | Israel | Shiri Maimon | Mekhaka shetashuv | 6 | 107 |
| 05 | | Sore | Different | 16 | 54 |
| 06 | Australia | Anna Lunoe & Flume | I Met You | 30 | 22 |
| 07 | The Netherlands | Tao Hypah | Play The Girl | 19 | 41 |
| 08 | Morocco | Fnaïre | Idé Rasek | 28 | 23 |
| 09 | USA | The Lumineers | Ho Hey | 11 | 64 |
| 10 | Russia | Vitas & Ksenona | Mne by v nebo | 14 | 58 |
| 11 | Portugal | Somsom ft. Mel Do Monde | Vamos Lá | 21 | 35 |
| 12 | Norway | Tone Damli ft. Eric Saade | Imagine | 5 | 109 |
| 13 | Poland | Edyta Górniak | Consequences | 37 | 4 (-30) |
| 14 | United Kingdom | Underworld ft. Dame Evelyn Glennie | And I Will Kiss | 31 | 19 |
| 15 | Bulgaria | Grafa & Bobo ft. Pechenkata | Dim Da Me Nyama | 25 | 29 |
| 16 | Sweden | Jens Lekman | I Know What Love Isn't | 26 | 26 |
| 17 | Mexico | 3BALLMTY ft. América Sierra  & Smoky | Besos al aire | 36 | 9 |
| 18 | France | Elisa Jo | Back Around | 1 | 169 |
| 19 | Austria | GuGabriel | Salvation | 3 | 141 |
| 20 | Cyprus | Michalis Hatzigiannis & Adriana Babali  | Vrohi Ton Asterion | 18 | 45 |
| 21 | Hungary | Apollo 23 | I Run To You | 30 | 20 |
| 22 | Germany | Die Ärzte | M&F | 12 | 63 |
| 23 | Greece | Despina Vandi | To Nisi | 8 | 95 |
| 24 |  Ireland | Daithí | Aréir | 7 | 107 |
| 25 | Indonesia | Zaskia | Satu Jam | 33 | 18 |
| 26 | Belgium | Marco Z | I'm a bird | 17 | 47 |
| 27 | Taiwan | Will Pan | The Story of Billy | 35 | 11 |
| 28 | Czech Republic | The Prostitutes | Heart of Stone | 15 | 55 |
| 29 | Serbia | Ana Stojančićević | Javi da si tu | 22 | 35 |
| 30 | Belarus | North Aurora | I've Been Under | 23 | 33 |
| 31 | Turkey | Aynur Aydın | Hurricane | 13 | 60 |
| 32 | Estonia | Traffic | Siirius | 20 | 38 |
| 33 | Azerbaijan | Nikki Jamal & Dima Bilan | Obnimi Menya | 24 | 29 |
| 34 | Spain | Chambalo | Lo Mejor Pa' Ti | 10 | 85 |
| 35 | Croatia | Severina ft. FM | Italiana | 4 | 112 |
| 36 | Macedonia | Tara | Out of Control | 34 | 15 |
| 37 | Bosnia & Herzegovina | Indira Radić | Zodiac | 32 | 18 |
The Results
Edit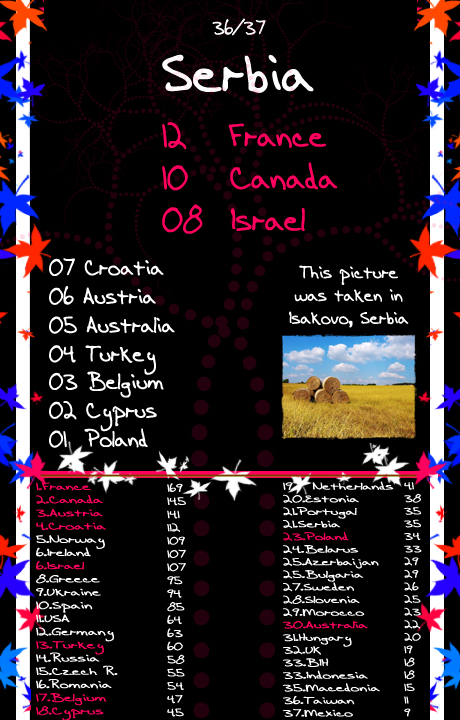 The winner
Edit
Elisa Jo - Back Around