Forum Song Contest #35
Host
Limassol, Cyprus
Date
January 3, 2012
Entries
38
Winner
Sweden
Debuting countries
none
Returning countries
none
Withdrawing countries
none
FSC
< FSC #34         FSC #36 >
The Host City
Edit
Limassol  is a city on the southern coast of Cyprus and capital of the eponymous district. Limassol is the second largest urban area in Cyprus, with an urban population of 160,000–176,700. Limassol has been ranked by TripAdvisor as the 3rd up-and-coming destination in the world, in its Top 10 Traveler's Choice Destinations on the Rise. The city is also ranked 87th worldwide in Mercer's Quality of Living Survey.
Limassol is known for the centuries-old Limassol Castle, home to the Cyprus Medieval Museum and its collection of pottery and tombstones. On the seafront is the Prokymea (Molos) Sculpture Park, with sculptures by Cypriot, Greek and international artists. To the northeast is the Limassol Archaeological Museum, exhibiting artifacts from the Neolithic to the Roman periods.
Limassol is famous in Cyprus for its festivals, like the Carnival and Wine Festival. The Limassol Carnival festival lasts for ten (10) days, with jolly and amusing masquerading. Other festivals are Yermasogeia Flower Festival (May), Festival of the Flood (June), Shakespearean nights and Festival of Ancient Greek Drama. The sixth Junior Eurovision Song Contest was held in Limassol, in the Spyros Kyprianou Athletic Centre.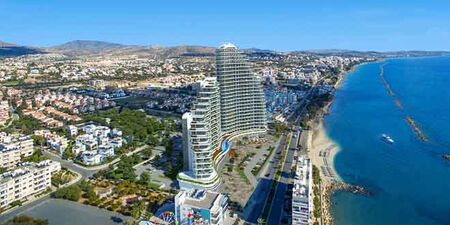 The Venue
Edit
The Spyros Kyprianou Athletic Center, is the biggest and the most imposing multi dynamic indoor athletic arena in Cyprus. It is named after the late president of Cyprus Spyros Kyprianou. The venue was built in 2005 and since it's already hosted such events like the FIBA Europe all-star game (2006 & 2007) and JESC 2008.
Capacity: 6255 people.
The Hosts
Edit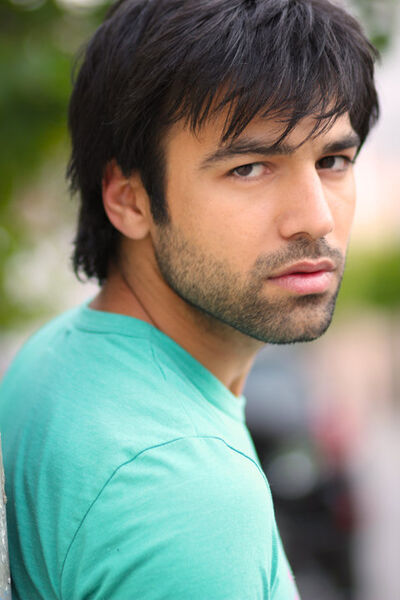 Andreas Georgiou was born on April 18, 1982 in London, England. He is a British/Cypriot actor and director.
Christiana Aristotelous is a Cypriot radio host.
Recap:
| Draw | FSC jury | Performer | Song | Place | Points |
| --- | --- | --- | --- | --- | --- |
| 01 | Bulgaria | Monyx | Can't Get Enough | 33 | 23 |
| 02 | Bosnia & Herzegovina | Mile Kitić | Pukni srce | 38 | 13 |
| 03 | Ireland | Little Green Cars | My Love Took Me Down to the River | 19 | 53 |
| 04 | Hungary | Kiraly Linda ft. RH3 & Pras | Untried | 29 | 33 |
| 05 | Serbia | Igor Garnier ft. Minja | Love is Taking Control | 20 | 50 |
| 06 | Poland | Maryla Rodowicz | Drugi but | 36 | 19 |
| 07 | Estonia | Ines | Pilvepiir | 23 | 42 |
| 08 | Albania | Elvana Gjata | Kudo qe jam | 34 | 21 |
| 09 | Australia | Bobby Andonov | Call Me | 31 | 32 |
| 10 | Israel | The Young Professionals | 20 Seconds | 22 | 45 |
| 11 | Denmark | Asynje | Njord og skade | 7 | 91 |
| 12 | Morocco | Golden Crew ft. Brick & Lace et Lynnsha | In Love With the Music | 37 | 17 |
| 13 | Greece | Nikos Oikonomopoulos | Deuterolepta tha meino | 26 | 36 |
| 14 | Romania | Alexandra Stan ft. Carlprit | One Million | 15 | 55 |
| 15 | Slovenia | Maja Keuc | You're a Tree and I'm a Balloon | 4 | 118 |
| 16 | The Netherlands | Waylon | The Escapist | 6 | 92 |
| 17 | Norway | Maria Mena | Am I Supposed to Apologize? | 3 | 131 |
| 18 | Russia | Plazma | Angel of Snow | 12 | 65 |
| 19 | Belarus | Veronica Gordievskaya | Place that I Belong | 25 | 37 |
| 20 | France | Julien Doré | Glenn Close | 27 | 35 |
| 21 | United Kingdom | Matthew Raymond Barker | Trash (tout le monde jump sur le bar) | 13 | 64 |
| 22 | Turkey | Funda | Stand Up | 18 | 53 |
| 23 | USA | Colbie Caillat | Brighter Than the Sun | 2 | 145 |
| 24 | Germany | Raffaela Wais | Heaven Only Knows | 5 | 105 |
| 25 | Taiwan | Peggy Hsu | Magical Boutique | 24 | 42 |
| 26 | Ukraine | INDI | Holodnyi dozhd' | 9 | 68 |
| 27 | Azerbaijan | Azad Shabanov | Tenha Radio | 28 | 34 |
| 28 | Spain | Revólver | No hay mañanas | 10 | 68 |
| 29 | Croatia | Jacques Houdek | Srecom imam tebe | 16 | 54 |
| 30 | Belgium | Arid | The High Life | 32 | 24 |
| 31 | Austria | Half Past Whatever | Bye Bye Love | 21 | 47 |
| 32 | Sweden | Molly Sanden | Spread A Little Light | 1 | 192 |
| 33 | Cyprus | Loucas Yiorkas | Gia proti fora | 14 | 58 |
| 34 | Mexico | Paulina Rubio | Sabes que te amo | 17 | 54 |
| 35 | Italy | Marco Mengoni | Tanto il resto cambia | 8 | 70 |
| 36 | Macedonia | Viktorija Loba & Robert Bilbilov | Ti si vinovna | 30 | 32 |
| 37 | Brazil | Marisa Monte | O que você quer saber de verdade | 35 | 19 |
| 38 | Canada | Adaline | Stereo | 11 | 67 |
The Results
Edit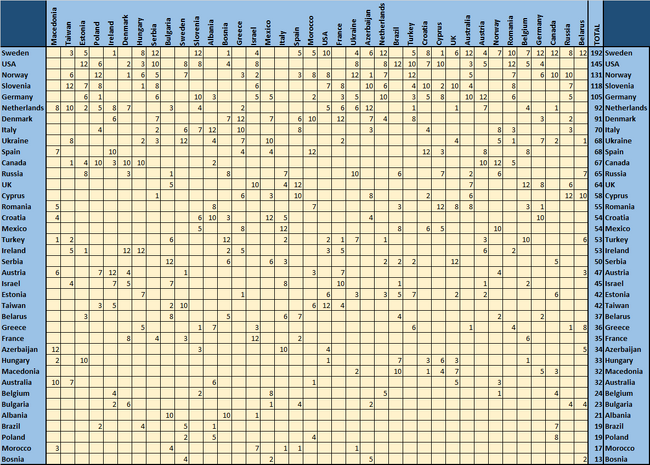 The Winner
Edit
Molly Sanden - Spread A Little Light: