The Host City
Edit
Antwerp is a city in Belgium, the capital of Antwerp province in the region of Flanders. With a population of 510,610, it is the most populous city proper in Belgium. Its metropolitan area houses around 1,200,000 people, which is second behind Brussels.
Antwerp is on the River Scheldt, linked to the North Sea by the Westerschelde estuary. The Port of Antwerp is one of the biggest in the world, ranking second in Europe and within the top 20 globally.
Antwerp hosted the 1920 Summer Olympics,  which were the first games after the First World War and also the only ones to be held in Belgium.
Starting in the 1990s, Antwerp rebranded itself as a world-class fashion centre. Emphasizing the avant-garde, it tried to compete with London, Milan, New York and Paris. It emerged from organized tourism and mega-cultural events.
Antwerp's other great mainstay is the diamond trade that takes place largely within the diamond district. The city has four diamond bourses: the Diamond Club of Antwerp, the Beurs voor Diamanthandel, the Antwerpsche Diamantkring and the Vrije Diamanthandel.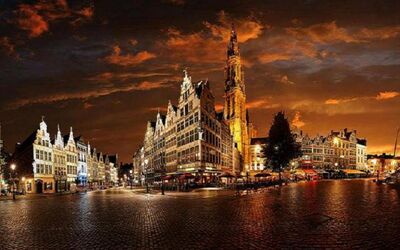 The Venue
Edit
The
Antwerps Sportpaleis
, is an arena in Antwerp, Belgium. It is a multipurpose hall where concerts, sporting events, festivals and fairs are organized.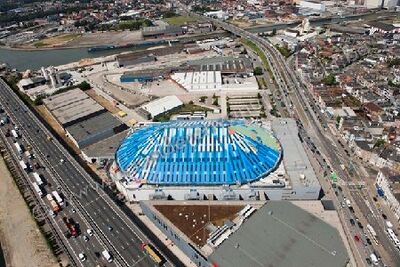 Building started on 11 January 1932. It lasted 21 months: on 11 September 1933, the building was completed, the largest indoor arena in Europe. Some artists who have performed at the Sportpaleis are: Shakira, Usher, Rihanna, Lady Gaga, Britney Spears, P!nk, Kylie Minogue, Kings of Leon, Coldplay, The Rolling Stones, Red Hot Chili Peppers, Beyonce', Avril Lavigne, Celine Dion, Spice Girls and The Black Eyed Peas, amongst others.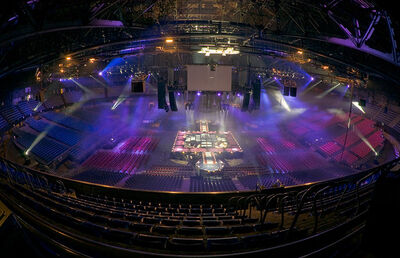 Capacity: 18500 people (13500 seats & 5000 standing places)
According to Billboard Magazine: Sportpaleis was the second most visited event hall in the world between November 2007 and November 2008, with over a million people attended. (Madison Square did better)
The Hosts
Edit
Nathalie Meskens (born 1982) is a Flemish actress & singer. She has appeared in different Flemish series and soaps. She is most known for her role in "Tegen de sterren op", a parodical humoristic program, she also gained popularity for her imitations of Princess Mathilde, Duchess of Brabant in. She won the Award of Best Actress and the Flemish Television Awards. She has also released a single and toured across Flanders.
Jeroen Van Dyck (born 1980) is a Flemish actor, he played is popular Flemish series, like "Het eiland", loosely based on "The Office". He's also a stage actor and member of a beatbox group.
Jeroen & Nathalie got married in 2007.
| Draw | FSC jury | Performer | Song | Place | Points |
| --- | --- | --- | --- | --- | --- |
| 01 | Hungary | Oláh Ibolya | Igaz, ami igaz | 24 | 38 |
| 02 | Belarus | B'yanka ft. Dino MC 47 | Navsegda s toboy | 38 | 5 |
| 03 | USA | David Mead | King Of The Crosswords | 20 | 55 |
| 04 | Slovenia | Nina Pušlar | Med vrsticami | 9 | 79 |
| 05 | Greece | Panagiotis Tsakalakos | Poly mou paei | 17 | 60 |
| 06 | Azerbaijan | Safura | Paradise | 27 | 31 |
| 07 | Romania | Celia ft. Kaye Styles | Is It Love? | 26 | 34 |
| 08 | Norway | Secret Garden ft. Moya Brennan | The Dream | 6 | 90 |
| 09 | Turkey | Neyse | Hokkabaz | 31 | 23 |
| 10 | Denmark | L.O.C. ft. Johan Olsen | Libertiner | 32 | 23 |
| 11 | Albania | Besa Kokëdhima | Botën do ndryshoja | 29 | 27 |
| 12 | Australia | Reece Mastin | Good Night | 16 | 62 |
| 13 | The Netherlands | Within Temptation | Sinead | 2 | 150 |
| 14 | Austria | Nadine Beiler | Mr. Right Now | 15 | 65 |
| 15 | Ukraine | Darwin | Moy dom tvoy | 23 | 40 |
| 16 | Taiwan | Mayday | Starry Starry Night | 37 | 6 |
| 17 | Italy | Entics | Click | 28 | 31 |
| 18 | Bosnia & Herzegovina | Ami Lojo | Naucila si me | 34 | 20 |
| 19 | Brazil | Michel Teló | Ai Se Eu Te Pego (Remix) | 11 | 75 |
| 20 | Israel | Chen Ahoroni | Going Far | 19 | 58 |
| 21 | United Kingdom | Matt Cardle | Run for Your Life | 18 | 60 |
| 22 | Bulgaria | Gloriya | Nenasitna | 25 | 36 |
| 23 | Croatia | Eric Destler ft. Franka | On Fire | 21 | 55 |
| 24 | Sweden | Melissa Horn | Under Loven | 12 | 73 |
| 25 | Estonia | Liis Lemsalu | Shining Star | 14 | 67 |
| 26 | Macedonia | Orhideja | Jas da sakav nekoj drug | 22 | 46 |
| 27 | Belgium | Lady Linn & Her Magnificent Seven | Cry Baby | 4 | 119 |
| 28 | Cyprus | Nikki Ponte | Remembering the Summer Nights | 1 | 179 |
| 29 | Ireland | Patrick Wolf | The Falcons | 8 | 81 |
| 30 | Mexico | Frankie J and Royalty | Number One | 35 | 11 |
| 31 | Germany | Jennifer Rostock | Ich Kann Nicht Mehr | 10 | 78 |
| 32 | Serbia | Irish Stew of Sindidun | Lady of New Tomorrow | 3 | 121 |
| 33 | Canada | Anjulie | Stand Behind the Music | 7 | 88 |
| 34 | Poland | Julia Marcell | Gamelan | 33 | 22 |
| 35 | Spain | Romy Low | Blow Me Up | 30 | 26 |
| 36 | France | Les Fatals Picards | Le retour à la terre | 13 | 67 |
| 37 | Russia | Dima Bilan | Mechtateli | 5 | 93 |
| 38 | Morocco | Mona Roukach | Hamdoulilah o chokroulilah | 36 | 10 |
The Results
Edit
The Winner
Edit
Nikki Ponte - Remembering The Summer Nights