The Host City
Edit
Seattle is a seaport city on the west coast of the United States. It is the seat of King County, Washington. With an estimated 713,700 residents, Seattle is the largest city in both the state of Washington and the Pacific Northwest region of North America. The city is situated on an isthmus between Puget Sound (an inlet of the Pacific Ocean) and Lake Washington, about 100 miles (160 km) south of the Canada–United States border. A major gateway for trade with Asia, Seattle is the fourth-largest port in North America in terms of container handling as of 2015.
Seattle has a noteworthy musical history. From 1918 to 1951, nearly two dozen jazz nightclubs existed along Jackson Street, from the current Chinatown/International District to the Central District. The jazz scene developed the early careers of Ray Charles, Quincy Jones, Ernestine Anderson, and others. Seattle is also the birthplace of rock musician Jimi Hendrix, as well as the bands Nirvana, Pearl Jam, Soundgarden, Alice in Chains, Foo Fighters and the alternative rock movement grunge.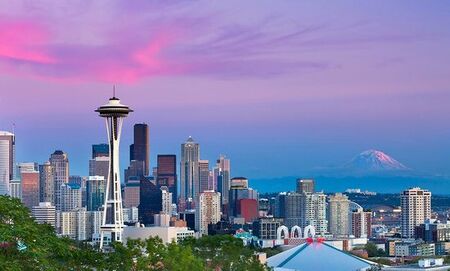 The Venue
Edit
The venue for this edition is Qwest Field. With seating capacity of 75,000 people it has hosted Rolling Stones and Metallica concerts. Michelle Obama and the Dalai Lama even made a speech there. Qwest Field boasts 11 public elevators, 48 concession areas, 3,100 onsite parking spaces, an exposition center, and a field capable of handling sports ranging from Football to World Cup Soccer.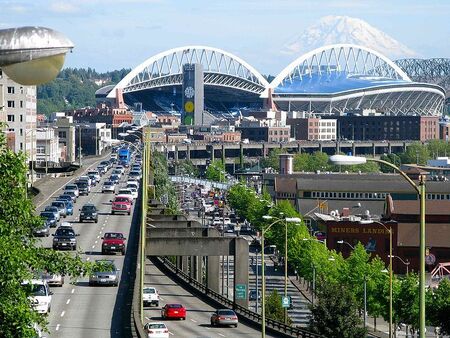 The Hosts
Edit
Hollywood actress Reese Witherspoon.
American TV Host Ryan Seacrest.
Recap video:
(made by Narmina)
| Draw | FSC jury | Performer | Song | Place | Points |
| --- | --- | --- | --- | --- | --- |
| 01 | Norway | Eva & The Heartmaker | Signals | 2 | 141 |
| 02 | United Kingdom | Example | Changed the Way You Kiss Me | 17 | 46 |
| 03 | Azerbaijan | AySel | Tonight | 7 | 96 |
| 04 | Bulgaria | Joanna | Fly so High | 26 | 29 |
| 05 | Turkey | Ebru Musiq | Do Me | 34 | 13 |
| 06 | Germany | Cascada | San Francisco | 18 | 46 |
| 07 | Liechtenstein | The Veit Club | Heroes | 23 | 31 |
| 08 | USA | Company of Thieves | Death of Communication | 31 | 19 |
| 09 | Switzerland | Sina ft. Büne Huber | Ich schwöru | 30 | 19 |
| 10 | Sweden | Swedish House Mafia | Save the World | 6 | 100 |
| 11 | Italy | Giorgia | Il mio giorno migliore | 19 | 44 |
| 12 | Spain | Venus | Restos del ayer | 20 | 40 |
| 13 | Poland | Pati Yang | Tonight | 24 | 31 |
| 14 | Romania | Antonia | Marionette | 3 | 123 |
| 15 | Israel | Chen Aharoni | Holech Le'sham | 8 | 95 |
| 16 | Brazil | Lorena Simpson | Dreams | 36 | 0 |
| 17 | Russia | Lena Katina | Never Forget You | 28 | 28 |
| 18 | Austria | Mono & Nikitaman | Zeit steht still | 27 | 29 |
| 19 | Albania | Elvana Gjata | Me ty | 9 | 89 |
| 20 | Ireland | The Japanese Popstars ft. Robert Smith | Take Forever | 25 | 30 |
| 21 | The Netherlands | Armin van Buuren ft. Laura V | Drowning | 35 | 13 |
| 22 | Greece | Giannis Ploutarhos | Ftais | 22 | 36 |
| 23 | Serbia | Milan Stanković | Perje | 11 | 74 |
| 24 | Macedonia | Elena & Lambe | Najdobro do sega | 14 | 51 |
| 25 | Estonia | Kerli | Army of Love | 10 | 87 |
| 26 | Canada | Mia Martina | Latin Moon | 21 | 37 |
| 27 | France | Elisa Tovati & Tom Dice | Il Nous Faut | 1 | 155 |
| 28 | Australia | Boy & Bear | Feeding Line | 16 | 47 |
| 29 | Belgium | Suarez | L'ombre | 29 | 27 |
| 30 | Ukraine | Franki | Touch Me | 13 | 61 |
| 31 | Portugal | Monica Ferraz | Golden Days | 15 | 50 |
| 32 | Taiwan | Anthony Neely | Hide Away | 12 | 66 |
| 33 | Hungary | Csézy | Ez az otthonunk | 33 | 15 |
| 34 | Slovenia | Tangels | Najin | 32 | 18 |
| 35 | Croatia | Lidija Bačić | Daj da noćas poludimo | 5 | 112 |
| 36 | Denmark | The Storm | Lost In the Fire | 4 | 112 |
The Results
Edit
The Winner
Edit
Elisa Tovati & Tom Dice - Il nous faut: