FSC 27 was the 27th edition of the Forum Song Contest. The contest was hosted at the American Airlines Arena in Miami, United States and held in May 27th 2011. Netherlands won the contest with their song "Faster" preformed by Within Temptation with 150 points followed by Italy with 123 points and Switzerland with 120.
The Host City
Edit
Miami is a major port city on the Atlantic coast of south Florida in the southeastern United States. As the seat of Miami-Dade County, the municipality is the principal, central, and the most populous city of the Miami metropolitan area and part of the second-most populous metropolis in the southeastern United States.  According to the U.S. Census Bureau, Miami's metro area is the eighth-most populous and fourth-largest urban area in the U.S., with a population of around 5.5 million.
Miami is a major center, and a leader in finance, commerce, culture, media, entertainment, the arts, and international trade.  In 2010, Miami ranked seventh in the United States and 33rd among global cities in terms of business activity, human capital, information exchange, cultural experience, and political engagement. In 2008, Forbes magazine ranked Miami "America's Cleanest City", for its year-round good air quality, vast green spaces, clean drinking water, clean streets, and citywide recycling programs.  According to a 2009 UBSstudy of 73 world cities, Miami was ranked as the richest city in the United States, and the world's seventh-richest city in terms of purchasing power. Miami is nicknamed the "Capital of Latin America" and is the largest city with a Cuban-American plurality.
Miami has the third tallest skyline in the U.S. with over 300 high-rises. Downtown Miami is home to the largest concentration of international banks in the United States, and many large national and international companies. The Civic Center is a major center for hospitals, research institutes, medical centers, and biotechnology industries. For more than two decades, the Port of Miami, known as the "Cruise Capital of the World", has been the number one cruise passenger port in the world. It accommodates some of the world's largest cruise ships and operations, and is the busiest port in both passenger traffic and cruise lines. Metropolitan Miami is also a major tourism hub in the southeastern U.S. for international visitors, ranking number two in the country after New York.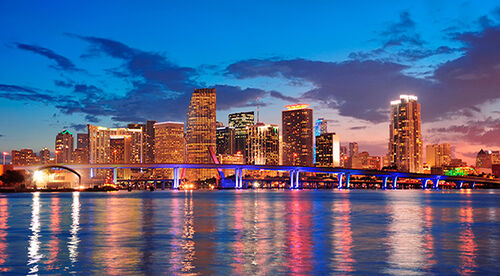 The Venue
Edit
The AmericanAirlines Arena is a sports and entertainment arena located in Downtown Miami, Florida along Biscayne Bay. The Arena is home to the Miami Heat of the National Basketball Association. The AmericanAirlines Arena has 2,105 club seats, 80 luxury suites, and 76 private boxes. The Waterfront Theater is Florida's largest theater which is housed within the arena, that can seat between 3,000 and 5,800. The theater can be configured for concerts, family events, musical theatre and other stage shows.
The Hosts
Edit
Actor Mario Lopez.
American singer and actress Jennifer Lopez.
| Draw | FSC jury | Performer | Song | Place | Points |
| --- | --- | --- | --- | --- | --- |
| 01 | Russia | Victoria Daineko | Sotri ego iz memory | 18 | 53 |
| 02 | The Netherlands | Within Temtation | Faster | 1 | 150 |
| 03 | Croatia | Ivana Maric | Trn i Cvijet | 28 | 19 |
| 04 | Australia | Short Stack | We Dance to a Different Disco, Honey | 10 | 83 |
| 05 | France | Colonel Reyel | Celui' | 24 | 40 |
| 06 | Israel | Epiphony feat. Mr. Black | Drip Drop | 6 | 100 |
| 07 | Turkey | Atiye | Batum Turkusu | 25 | 40 |
| 08 | Serbia | Jahovic & Natasa Bekvalac | Gospodine | 17 | 56 |
| 09 | Bosnia and Herzegovina | Dino Merlin | Pjesma Bez Imena | 13 | 60 |
| 10 | Hungary | Racz Gergo | Harc es Vagy | 9 | 83 |
| 11 | Portugal | Aurea | Busy for Me | 21 | 50 |
| 12 | Canada | Fefe Dobson | Can't Breathe | 4 | 106 |
| 13 | Albania | Klajdi Harruni | Te Gjithe Sot Po Duan | 27 | 23 |
| 14 | Norway | WaterflyMusic | Black Pearls & Fantasy | 5 | 100 |
| 15 | Ireland | Alestorm | Shipwrecked | 30 | 16 |
| 16 | Morocco | Mona Amarsha | Wenak | 31 | 13 |
| 17 | Denmark | Volbeat | Fallen | 19 | 53 |
| 18 | Slovenia | Manca Spik | Stereo naboj | 15 | 56 |
| 19 | Italy | Moda | La notte | 2 | 123 |
| 20 | Belgium | Idool 2011 (Finalisten) | More to Me | 7 | 97 |
| 21 | Austria | Darius & Finlay feat. Nicco | Hold On | 26 | 39 |
| 22 | United Kingdom | Jessie J | Nobody's Perfect | 12 | 63 |
| 23 | Bulgaria | Grafa | Nevidim | 23 | 44 |
| 24 | Germany | The Black Pony | Crush | 20 | 50 |
| 25 | USA | Alison Krauss & Union Station | Paper Airplane | 8 | 85 |
| 26 | Sweden | Mohombi | Love in America | 14 | 58 |
| 27 | Azerbaijan | Ilhama Gasimova | Out of Reach | 22 | 48 |
| 28 | Ukraine | Jamala | I See You Every Night | 11 | 68 |
| 29 | Switzerland | Myron | If It Ends | 3 | 120 |
| 30 | Romania | Sasha Lopez | All My People | 16 | 56 |
| 31 | Macedonia | Vlado Janevski | Bulki | 29 | 19 |
The Results
Edit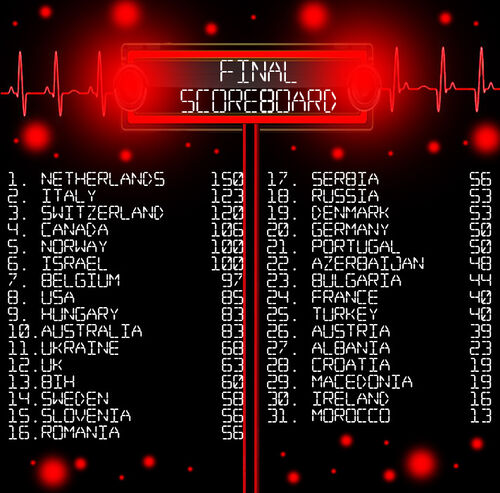 The Winner
Edit
Within Temptation - Faster