The Host City
Edit
Copenhagen, Denmark's capital, sits on the coastal islands of Zealand and Amager. It's linked to Malmo in southern Sweden by the Öresund Bridge. Indre By, the city's historic center, contains Frederiksstaden, an 18th-century rococo district, home to the royal family's Amalienborg Palace. Nearby is Christiansborg Palace and the Renaissance-era Rosenborg Castle, surrounded by gardens and home to the crown jewels.
The city has a population of 763,908 (as of December 2016), of whom 601,448 live in the Municipality of Copenhagen.
Since the turn of the 21st century, Copenhagen has seen strong urban and cultural development, facilitated by investment in its institutions and infrastructure. The city is the cultural, economic and governmental centre of Denmark; it is one of the major financial centres of Northern Europe with the Copenhagen Stock Exchange. Copenhagen's economy has seen rapid developments in the service sector, especially through initiatives in information technology, pharmaceuticals and clean technology. Since the completion of the Øresund Bridge, Copenhagen has become increasingly integrated with the Swedish province of Scania and its largest city, Malmö, forming the Øresund Region. With a number of bridges connecting the various districts, the cityscape is characterised by parks, promenades and waterfronts. Copenhagen's landmarks such as Tivoli Gardens, The Little Mermaid statue, the Amalienborg and Christiansborg palaces, Rosenborg Castle Gardens, Frederik's Church, and many museums, restaurants and nightclubs are significant tourist attractions.
The Venue
Edit
Parken Stadium is a football stadium in the Indre Østerbro (Inner Østerbro) district of Copenhagen, Denmark, built from 1990–1992. The stadium, which features a retractable roof, currently has a capacity of 38,065 for football games, and is the home ground of FC Copenhagen and the Denmark national football team. The capacity for concerts exceeds the capacity for matches – the stadium can hold as many as 50,000 people with an end-stage setup and 55,000 with a center-stage setup.
The Hosts
Edit
Kevin Skrøder and Masha Vang
| Draw | FSC jury | Performer | Song | Place | Points |
| --- | --- | --- | --- | --- | --- |
| 01 | USA | The Ready Set | Love Like Woe | 5 | 86 |
| 02 | Belgium | Stromae | Te Quiero | 19 | 43 |
| 03 | Ireland | Humanzi | Hammer | 29 | 26 |
| 04 | Bosnia and Herzegovina | SMS | Kada Se Voli | 18 | 47 |
| 05 | Croatia | Lana Jurčević | Kopija | 1 | 138 |
| 06 | Israel | Shani Yi'tzari | Ma Girl | 7 | 80 |
| 07 | Greece | Sakis Rouvas | Spase Jon Krono | 28 | 27 |
| 08 | Azerbaijan | Safura | Gonna Let You Know | 6 | 84 |
| 09 | Finland | Soma Manuchar | Crazy 'Bout The Boy | 17 | 49 |
| 10 | Estonia | Lenna Kuurmaa | Mida Sa Teed | 20 | 43 |
| 11 | Albania | Aurela Gaçe ft. Dr. Flori & Marsel | Originale | 30 | 23 |
| 12 | Portugal | Rita Redshoes | Captain Of My Soul | 26 | 32 |
| 13 | Bulgaria | Irina Florin | Koprinena Jena | 32 | 8 |
| 14 | Denmark | Joey Moe | Isdronning | 3 | 120 |
| 15 | France | Shy'm | Je Sais | 10 | 75 |
| 16 | Norway | Madcon | Glow | 2 | 124 |
| 17 | Romania | Passione | Soft Touch | 27 | 27 |
| 18 | Turkey | Hande Yener | Sopa | 16 | 51 |
| 19 | Serbia | Dunja Ilić | Šefica podzemlja | 21 | 41 |
| 20 | Switzerland | Lunik | How Could I Tell You | 8 | 78 |
| 21 | Macedonia | Dani Dimitrovska | Ne Ziveam Za Drugite | 22 | 39 |
| 22 | Hungary | Holdviola | Erdő, erdő | 11 | 73 |
| 23 | United Kingdom | Example | Kickstarts | 15 | 56 |
| 24 | Brazil | Sabrina Sanm | Nas Suas Veias | 14 | 58 |
| 25 | Spain | Alejandro Sanz | Desde cuándo | 12 | 66 |
| 26 | Canada | Hedley | Perfect | 13 | 64 |
| 27 | Japan | Sound Horizon | Hikari To Yami No Douwa | 24 | 36 |
| 28 | Poland | Koniec Świata | Oranżada | 25 | 32 |
| 29 | Ukraine | Goryachiy Shockolad | Bez Uma | 9 | 77 |
| 30 | Germany | Schiller ft. Nadia Alli | Try | 23 | 38 |
| 31 | Austria | Norbert Schneider | Take It Easy | 31 | 12 |
| 32 | Australia | Kylie Minogue | All The Lovers | 4 | 103 |
The Results
Edit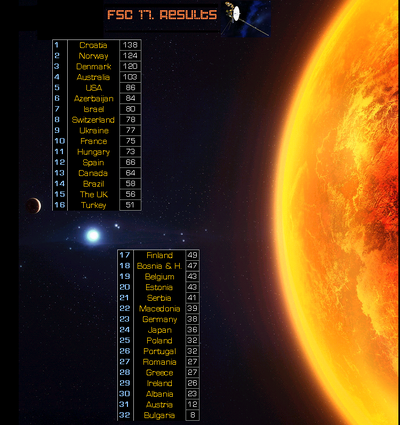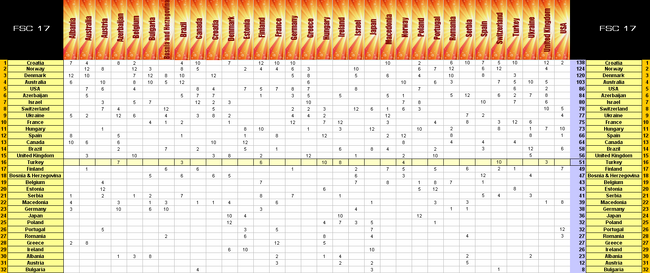 The winner
Edit
Lana Jurčević - Kopija