The Host City
Edit
Hamburg, a major port city in northern Germany, is connected to the North Sea by the Elbe River. It's crossed by hundreds of canals, and also contains large areas of parkland. Near its core, Inner Alster lake is dotted with boats and surrounded by cafes. The city's central Jungfernstieg boulevard connects the Neustadt (new town) with the Altstadt (old town), home to landmarks like 18th-century St. Michael's Church.
Hamburg  is the second-largest city of Germany and is generally taken to be commensurate to its state with a population of roughly 1.8 million people.
The city is a tourist destination domestically and internationally. It ranked 18th in the world for livability in 2016. Speicherstadt and Kontorhausviertel were declared a World Heritage Site by UNESCO in 2015.
Hamburg is a major European science, research, and education hub, with several universities and institutes. Its creative industries and cultural sites include the Elbphilharmonie and Laeisz concert halls, art venues, music producers, and artists. It gave birth to movements like Hamburger Schule and paved the way for bands including The Beatles. Hamburg is also known for several theatres and a variety of musical shows. St. Pauli's Reeperbahn is among the best-known European entertainment districts.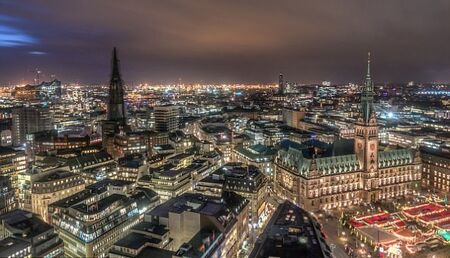 The Venue
Edit
HSH Nordbank Arena was chosen as the the FSC venue.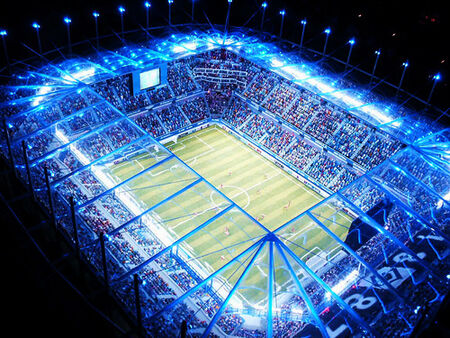 The Hosts
Edit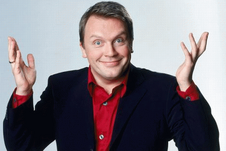 Hans "Hape" Kerkeling (born 9 December 1964, in Recklinghausen, Germany) is a well-known German actor, presenter and comedian. In a survey by the television station Kabel 1 in 2005, Kerkeling made it into the top ten favourite faces on German television. In April and May 2006 he presented the live TV show Let's Dance, a German version of Celebrity Come Dancing/Dancing with the Stars, with Nazan Eckes. In 2001 Kerkeling went on a pilgrimage, following the Way of St James for 650 kilometres (400 mi) to Santiago de Compostela. In June 2006 his book "Ich bin dann mal weg" ("I'm off for a bit, then"), his diary of this pilgrimage, was top of the Spiegel magazine non-fiction bestseller list. By May 2008 it had sold 3 million copies.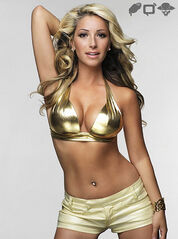 Gülcan Kamps (born 20 September 1982 in Lübeck, Germany) is a German TV presenter (a.k.a. VJane) of Turkish descent. Gülcan was born on 20 September 1982 in Lübeck. In 2004, teaming up with Mustafa Sandal she got onto the European top 10 music charts with Aya Benzer. In 2004, she placed 2nd in Maxim Magazine's women of the year in television. She also placed 60th in FHM Germany's 100 sexiest women and 71st for 2005. Since 2004, Gülcan has been involved in many charitable purposes such as with UNICEF for the "1 Viennese Tulip Ball". On 7 July 2007 she was a host at Live Earth.
| Draw | FSC jury | Performer | Song | Place | Points |
| --- | --- | --- | --- | --- | --- |
| 01 | Germany | Monrose | Like a Lady | 5 | 81 |
| 02 | Austria | Saint Lu | Here I Stand | 9 | 73 |
| 03 | Spain | Pignoise | Todo me da igual | 17 | 59 |
| 04 | Denmark | Alphabeat | DJ | 1 | 95 |
| 05 | Greece | Kostas Martakis | Dyskolo na sagapo | 11 | 71 |
| 06 | USA | Travie McCoy ft. Bruno Mars | Billionaire | 23 | 31 |
| 07 | Canada | Christa Borden | Tonight | 16 | 60 |
| 08 | Albania | Miriam Cani | Mos me ndal | 18 | 52 |
| 09 | Azerbaijan | Mirror Mind Project | She | 27 | 7 |
| 10 | Poland | Czesław Śpiewa | Pożegnanie Małego Wojownika | 4 | 82 |
| 11 | Estonia | WKA | Suvi | 20 | 42 |
| 12 | Ireland | New Sunset Hotel | The Bitter End | 6 | 77 |
| 13 | Macedonia | Kaliopi | Zasekogas | 19 | 48 |
| 14 | Japan | Capsule | What do You Want to Do | 8 | 73 |
| 15 | Bulgaria | Andrea | Neblagodaren | 3 | 90 |
| 16 | Portugal | Lucenzo ft. Big Ali | Vem dançar kuduro | 14 | 61 |
| 17 | Brazil | Sandy Leah & Nerina Pallot | Dias iguais | 25 | 17 |
| 18 | Australia | Guy Sebastian ft. Jordin Sparks | Art of Love | 7 | 75 |
| 19 | Belgium | Danzel | Under Arrest | 22 | 33 |
| 20 | Israel | Lihi Atar | Lirkod | 12 | 67 |
| 21 | Norway | Stage Dolls | Eye of My Heart | 21 | 38 |
| 22 | Turkey | Şebnem Ferah | Yalnız | 10 | 72 |
| 23 | United Kingdom | Marina and the Diamonds | Hollywood | 2 | 93 |
| 24 | Romania | Alexandra Stan | Lollipop | 24 | 30 |
| 25 | France | Sexion d'Assaut | Désolé | 15 | 61 |
| 26 | Serbia | Tanja Banjanin | Pamtim | 26 | 12 |
| 27 | Ukraine | MilosskaYA | Letat' | 13 | 66 |
The Results
Edit
Final results
Edit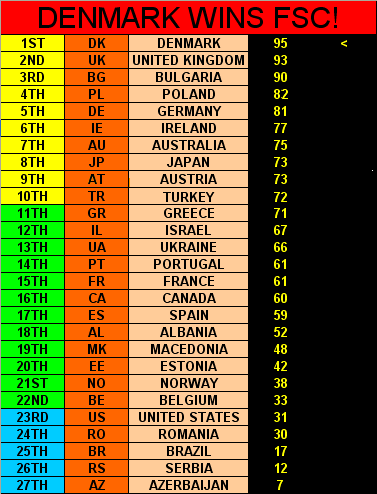 The Winner
Edit
Alphabeat - DJ (I Could Be Dancing)