The 14th FSC edition was hosted by Barcelona (thanks to Roser who brought Spain their first victory). It started on April 2. This edition managed to break a record - for the first time 28 countries applied for participation.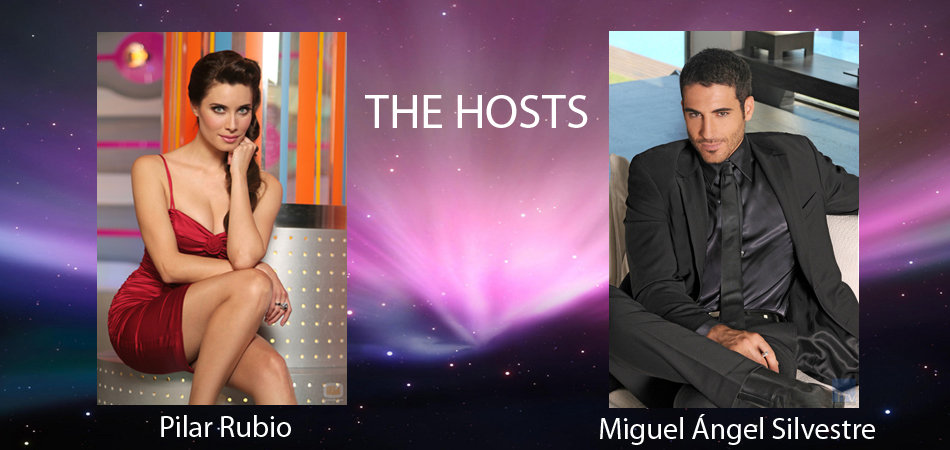 Pilar Rubio (born May 3, 1978) is a Spanish reporter and TV presenter. She became famous for covering events for the program Se lo que hicisteis... for the television network La Sexta. She is also the girlfriend of the singer of the musical group Hamlet. She won the award of best television reporter with Premio Joven 2007. In 2008 and 2009 she was selected as the sexiest women by the Spanish edition of the FHM magazine.
Miguel Ángel Silvestre Rambla (born 6 April, 1982) is a Spanish actor. He was going to become a professional tennis player, but he suffered an injury in a Hungarian tournament. He later decided to study kinesiotherapy until his aunt introduced him in the world of theatre. He studied drama, physical theatre, modern dance and acrobatics before he won Mister Castellón 2002 pageant. Silvestre stars in the Spanish upcoming Horror thriller Verbo.
| Draw | FSC jury | Performer | Song | Place | Points |
| --- | --- | --- | --- | --- | --- |
| 01 | United Kingdom | Just Jack | The Day I Died | 28 | 7 |
| 02 | Estonia | Metsatöll | Tuletalgud | 12 | 53 |
| 03 | Japan | Girl Next Door | Koi no mahou | 5 | 69 |
| 04 | Poland | Psio Crew | Baciar | 25 | 20 |
| 05 | Macedonia | Orhideja Dukova | Ne sakam da sakam | 24 | 26 |
| 06 | Ukraine | Yaroslove | Slide With The Rhythm | 13 | 49 |
| 07 | Ireland | Boyzone | Gave It All Away | 6 | 10 |
| 08 | Russia | Sergey Lazarev | Alarm | 11 | 57 |
| 09 | Canada | Lily Frost | Forest Fire | 7 | 65 |
| 10 | Azerbaijan | Aysel | Fallin | 2 | 95 |
| 11 | Croatia | Lana Jurčević feat. P'eggy | Miljama daleko | 22 | 34 |
| 12 | Turkey | Pamela Spence | Say What You Want | 20 | 36 |
| 13 | Spain | Soraya Arnelas ft. Antoine Calamaran | Live Your Dreams | 1 | 110 |
| 14 | Finland | Jenny Vartiainen | En haluu kuolla tänä yönä | 3 | 85 |
| 15 | USA | Neon Trees | Animal | 19 | 39 |
| 16 | Portugal | D'ZRT | Feeling | 27 | 15 |
| 17 | Slovakia | Tina ft. Rytmus | Pribeh | 21 | 36 |
| 18 | Switzerland | Quentin Mosimann | Il y a un paradise | 17 | 45 |
| 19 | Denmark | Electric Lady Lab | It's Over Now | 10 | 58 |
| 20 | Australia | Gabriela Cilmi | On a Mission | 16 | 46 |
| 21 | Israel | Useless ID ft. Keren Peles | Heres is a City | 14 | 47 |
| 22 | Brazil | Lorena Simpson ft. Filipe Guerra | Breathe Again | 9 | 62 |
| 23 | Belgium | Wildboyz ft. Ameerah | The Sound of Missing You | 8 | 64 |
| 24 | Bulgaria | Kameliq | Ostavqsh petna | 26 | 17 |
| 25 | Norway | Vidar Johnsen & Peter Nordberg | Om du vil ha meg | 4 | 72 |
| 26 | Serbia | Minja Samardžić | Alkatraz | 23 | 27 |
| 27 | Germany | Reamonn | Aeroplane | 15 | 46 |
| 28 | Romania | Razvan Krivach & Tudor Rogoz | Psihedelia | 18 | 44 |
Scoreboards
Edit
Final results
Edit
The winner
Edit
Antoine Clamaran feat Soraya Arnelas - Live your dreams